Pigmento amarillo 14
| | |
| --- | --- |
| nombre del producto | PIGMENTO AMARILLO 14 |
| Sinónimos | CIPigment Yellow 14; CIPY14; PY14; PY14 |
| CI. | 21095 |
| NO CAS.: | 5468-75-7 |
| EINECS: | 226-789-3 |
| Peso molecular | 657.55 |
| Fórmula molecular | C34H30Cl2N6O4 |
| Densidad | 1,32 g / cm3 |
| Color | Polvo amarillo |

Fórmula de estructura molecular: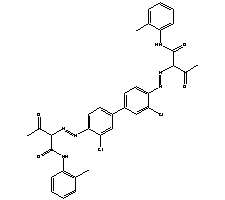 Propiedades de solidez del pigmento amarillo 14:
| | |
| --- | --- |
| Resistencia a la luz | 3-4 |
| Resistencia al calor (℃) | 180 |
| Resistencia al agua | 5 |
| Resistencia al aceite | 4-5 |
| Resistencia ácida | 4-5 |
| Resistencia a los álcalis | 4-5 |
| Resistencia al alcohol | 5 |
Solubilidad: insoluble en agua, ligeramente soluble en tolueno; Es de color rojo brillante y naranja en ácido sulfúrico concentrado y se convierte en un sedimento verde oscuro y amarillo después de la dilución.
polvo amarillo, color brillante. El punto de fusión es de 336 ℃ y la densidad es de 1,35 ~ 1,64 g/cm3. Tiene un fuerte poder colorante y un buen rendimiento de aplicación. Es una de las variedades importantes de bencidina.
Aplicación principal: tinta a base de agua, tinta offset, tinta a base de solvente, impresión textil
Tenemos varios grados y propiedades de pigmentos para satisfacer las necesidades de los diferentes clientes; especifique su aplicación y requisitos para que podamos recomendarlos en consecuencia. Correo electrónico: sy@sypigment.com
Descripción del producto del pigmento amarillo 14:
Pigment Yellow 14 is slightly greener than Pigment Yellow 12; the tinting strength is lower than CI Pigment Yellow 13, and the light fastness is 1-2 ; Transparent Irgalite Yellow BAW has a specific surface area of 55m2/g; it has good solvent resistance and paraffin wax resistance, especially in the United States for a large number of packaging inks. The amine-treated preparation is a special formulation suitable for publishing gravure ink, with pure color, but strong green light. This product is seldom used for paint coloring; used for polyolefin, heat-resistant up to 200°C, blooming occurs when the concentration exceeds a certain concentration in soft PVC; it can also be used for elastomer and rubber coloring.
Pigment Yellow 14 is a medium shade OT Yellow that falls into the Disazo (Diarylide) Class. Generally, such types have good fastness to solvents and overpainting, coupled with stability to blooming.
TDS (Pigment Yellow 14)
MSDS (Pigment Yellow 14)
Sinónimos
Pigmento amarillo 14
5468-75-7
C.I. Pigment Yellow 14
Resorcin Brown R
Radiant Yellow
Lake Yellow GA
Pigment Fast Yellow GP
Light Yellow JBV
Plastol Yellow GG
Plastol Yellow GP
Benzidene Yellow G
Benzidine Yellow L
Silotermo Yellow G
Pigment Yellow 2G
Vynamon Yellow 2G
Irgalite Yellow BR
Light Yellow JBVT
Permagen Yellow GA
Resamine Yellow GP
Pigment Yellow GPP
Calcotone Yellow GP
Hostaperm Yellow GT
Irgalite Yellow BRE
Vynamon Yellow 2GE
Benzidine Yellow GGT
Hostaperm Yellow GTT
Vulcan Fast Yellow G
Sanyo Benzidine Yellow
Rubber Fast Yellow GA
Versal Fast Yellow PG
Tertropigment Yellow BG
Vulcafor Fast Yellow 2G
Isol Benzidine Yellow GO
Pigment Fast Yellow 2GP
Resamine Fast Yellow GGP
Symuler Fast Yellow 5GF
Silogomma Fast Yellow 2G
Benzidine Yellow OT
Benzidene Yellow ABZ-249
Tertropigment Fast Yellow VG
No. 55 Conc. Pale Yellow SF
C.I. 21095
Atul Vulcan Fast Pigment Oil Yellow T
UNII-586X0864EC
586X0864EC
2,2′-[(3,3′-Dichloro[1,1′-biphenyl]-4,4′-diyl)bis(azo)]bis[N-(2-methylphenyl)-3-oxobutyramide]
Permagen Yellow
Aaot Yellow
2,2′-((3,3′-Dichloro(1,1′-biphenyl)-4,4′-diyl)bis(azo))bis(N-(2-methylphenyl)-3-oxobutyramide)
Butanamide, 2,2′-((3,3′-dichloro(1,1′-biphenyl)-4,4′-diyl)bis(2,1-diazenediyl))bis(N-(2-methylphenyl)-3-oxo-
Butanamide, 2,2′-((3,3′-dichloro(1,1′-biphenyl)-4,4′-diyl)bis(azo))bis(N-(2-methylphenyl)-3-oxo-
Butanamide, 2,2′-[(3,3′-dichloro[1,1′-biphenyl]-4,4′-diyl)bis(azo)]bis[N-(2-methylphenyl)-3-oxo-
Lionol Yellow GGR
Pigment Yellow GGP
Graphtol Yellow GXS
Segnale Yellow 2GR
Permanent Yellow Light
Benzidine Yellow AAOT
Diarylide Yellow AAOT
Sumikaprint Yellow GFN
Seikafast Yellow 2200
Sumatra Yellow X 1940
Sacandaga Yellow X 2476
Benzidine Yellow ABZ 249
Recolite Fast Yellow B 2T
Tetropigment Fast Yellow BG
Tetropigment Fast Yellow VG
Symuler Fast Yellow 4090G
Benzidine Yellow OTYA 8055
No.55 Conc. Pale Yellow SF
EINECS 226-789-3
NSC 15087
Benzidine Yellow (Grease proof) (VAN)
C34H30Cl2N6O4
C.I. Pigment Yellow 14 (VAN)
Recolite Fast Yellow B2T
Sumatra Yellow X-1940
EC 226-789-3
Sacandaga Yellow-X-2476
2-[[2-chloro-4-[3-chloro-4-[[1-(2-methylanilino)-1,3-dioxobutan-2-yl]diazenyl]phenyl]phenyl]diazenyl]-N-(2-methylphenyl)-3-oxobutanamide
Benzidine Yellow OTYA-8055
SCHEMBL1134224
Benzidine Yellow (Grease proof)
DTXSID9027601
SCHEMBL10705325
NSC15087
Pigment Yellow 14, Technical grade
MFCD00059659
NSC-15087
O864
C.I.21095
W-109155
Q27261565
2,2′-((3,3′-Dichloro-[1,1′-biphenyl]-4,4′-diyl)bis(diazene-2,1-diyl))bis(3-oxo-N-(o-tolyl)butanamide)
2,2′-[(3,3′-dichlorobiphenyl-4,4′-diyl)di(E)diazene-2,1-diyl]bis[N-(2-methylphenyl)-3-oxobutanamide]
2-[2-chloro-4-[3-chloro-4-[1-(2-methylanilino)-1,3-dioxobutan-2-yl]diazenylphenyl]phenyl]diazenyl-N-(2-methylphenyl)-3-oxobutanamide
Butanamide,2′-[(3,3′-dichloro[1,1′-biphenyl]-4,4′-diyl)bis(azo)]bis[N-(2-methylphenyl)-3-oxo-
Nombre IUPAC: 2-[[2-chloro-4-[3-chloro-4-[[1-(2-methylanilino)-1,3-dioxobutan-2-yl]diazenyl]phenyl]phenyl]diazenyl]-N-(2-methylphenyl)-3-oxobutanamide
InChI: InChI=1S/C34H30Cl2N6O4/c1-19-9-5-7-11-27(19)37-33(45)31(21(3)43)41-39-29-15-13-23(17-25(29)35)24-14-16-30(26(36)18-24)40-42-32(22(4)44)34(46)38-28-12-8-6-10-20(28)2/h5-18,31-32H,1-4H3,(H,37,45)(H,38,46)
InChIKey: LQZFGPJGXVFSTR-UHFFFAOYSA-N
SONRISAS canónicas: CC1=CC=CC=C1NC(=O)C(C(=O)C)N=NC2=C(C=C(C=C2)C3=CC(=C(C=C3)N=NC(C(=O)C)C(=O)NC4=CC=CC=C4C)Cl)Cl
| | |
| --- | --- |
| Nombre de la propiedad | El valor de la propiedad |
| Peso molecular | 657.5 |
| XLogP3-AA | 8.8 |
| Recuento de donantes de enlaces de hidrógeno | 2 |
| Recuento de aceptores de enlaces de hidrógeno | 8 |
| Recuento de bonos giratorios | 11 |
| Masa exacta | 656.1705588 |
| Masa monoisotópica | 656.1705588 |
| Área de superficie polar topológica | 142 Ų |
| Recuento de átomos pesados | 46 |
| Cargo formal | 0 |
| Complejidad | 1050 |
| Recuento de átomos de isótopos | 0 |
| Recuento de estereocentros de átomos definidos | 0 |
| Recuento de estereocentros de átomos indefinidos | 2 |
| Recuento de estereocentros de enlaces definidos | 0 |
| Recuento de estereocentros de enlace indefinido | 0 |
| Recuento de unidades unidas covalentemente | 1 |
| El compuesto está canonizado | Sí |
[De:
PubChem
]