Pigment Kırmızı 53:1
| | |
| --- | --- |
| Ürün adı | KIRMIZI PİGMENT 53:1 |
| Eş anlamlı: | CIPigment Kırmızı 53:1; CIPR53:1; PR53:1; PR53:1 |
| CI | 15585:1 |
| CAS NUMARASI. | 5160/2/1 |
| EINECS | 225-935-3 |
| Moleküler ağırlık | 378.81 |
| Moleküler formül | C17H13ClN2O4S |
| Renk | kırmızı toz |

Moleküler yapı formülü: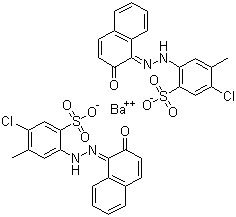 Pigment Kırmızısının Haslık Özellikleri 53:1:
| | |
| --- | --- |
| Işık hızı | 3 |
| Isı Direnci (℃) | 180 |
| Su direnci | 5 |
| Yağ Direnci | 5 |
| Asit Direnci | 3 |
| Alkali Direnci | 3 |
| Alkol Direnci | 4-5 |
Ana uygulama: Su bazlı mürekkep, Ofset mürekkep, Solvent bazlı mürekkep, Plastik, Boya, Tekstil baskı
Farklı müşterilerin ihtiyaçlarını karşılamak için çeşitli pigment sınıfları ve özelliklerimiz var, buna göre tavsiye edebilmemiz için lütfen uygulamanızı ve gereksinimlerinizi belirtin.  E-posta: sy@sypigment.com
Pigment Kırmızı 53:1 Ürün Açıklaması:
Bu pigment 57:1 kırmızı pigmentten daha sarımsıdır ve Sıcak Kırmızı olarak adlandırılır. Renklendirme gücü ve canlılığı yüksektir, asit/alkaliye duyarlıdır. Baskı mürekkebi, iyi solvent direnci ve ısı kararlılığı (200℃/10dk) için kullanılır; stabiliteyi azaltmak için su bazlı fleksografik mürekkep, moleküler metal ve baz mürekkep alkali ajanında kullanılır; kauçuk ve plastikte kullanılır, HDPE'de Orta ısı direncinde 260℃/5dk, gıda, kozmetik ve ilaç renklendirmesi için kullanılabilir. Yaklaşık 130'dan fazla marka piyasaya sürülmüştür. Ağırlıklı olarak mürekkep, kauçuk ürünler ve bisiklet iç lastiklerinin renklendirilmesinde kullanılmaktadır. Kültürel, eğitici ve plastik ürünlerin renklendirilmesinde de kullanılmaktadır.
Pigment Red 53:1 is a red powder with a color index name PR 53:1. It is a bright color with a heat resistance of 180ºC. It is ideal for use in printing inks, water-based inks, rubber and plastic, HDPE, food, cosmetic and medicine applications.
TDS (Pigment Red 53:1)
MSDS (Pigment Red 53:1)
Eş anlamlı
| | |
| --- | --- |
| 1. Pigment Red 53:1 | 77. Red Lake CR-1 |
| 2. 5160-02-1 | 78. Japan Red 204 |
| 3. Lake Red CBA | 79. Lutetia Red CLN-ST |
| 4. Brilliant Red | 80. Lake Red Toner LCLL |
| 5. C.I. Pigment Red 53 | 81. Microtex Lake Red CR |
| 6. D and C Red No. 9 | 82. No.3 Conc. Scarlet |
| 7. Lake Red C | 83. Recolite Red Lake CR |
| 8. D & C red no. 9 | 84. Pigment Lake Red BFC |
| 9. C.I. Pigment Red 53:1 | 85. Red Lake R-91 |
| 10. Red Lake C | 86. Helio Red Toner LCLL |
| 11. C.I. Pigment Red 53, barium salt | 87. Lake Red 1520 |
| 12. UNII-1FO1ZO92Y1 | 88. Japan Red No. 204 |
| 13. 1FO1ZO92Y1 | 89. Rubber Red 16913R |
| 14. C.I. 15585:1 | 90. Wayne Red X-2486 |
| 15. Benzenesulfonic acid, 5-chloro-2-((2-hydroxy-1-naphthalenyl)azo)-4-methyl-, barium salt(2:1) | 91. Lake Red GB barium salt |
| 16. 12238-39-0 | 92. Mohican Red A-8008 |
| 17. C.I. Pigment Red 53, barium salt (2:1) | 93. D&C Red No. 9 |
| 18. Carnation Red | 94. Isol Red LCR 2517 |
| 19. Astro Orange | 95. Transparent Bronze Scarlet |
| 20. Hamilton Red | 96. Lake Red C 18287 |
| 21. Potomac Red | 97. Lake Red C 21245 |
| 22. Red Scarlet | 98. Lake Red C 27200 |
| 23. Atomic Red | 99. Lake Red C 27217 |
| 24. D&C Red 9 | 100. Lake Red C 27218 |
| 25. Desert Red | 101. Ld Rubber Red 16913 |
| 26. Lake Red C Barium Toner | 102. Superol Red C RT-265 |
| 27. Barium bis(2-chloro-5-((2-hydroxy-1-naphthyl)azo)toluene-4-sulphonate) | 103. Red No. 204 |
| 28. Cosmetic DVR | 104. Vulcafix Scarlet R-D masse |
| 29. Scarlet Toner Y | 105. Lake Red C Toner 8195 |
| 30. Pigment Red CD | 106. Lake Red C Toner 8366 |
| 31. Segnale Red LC | 107. No.3 Conc. Bronze Scarlet |
| 32. Lutetia Red CLN | 108. Latexol Scarlet R Solupowder |
| 33. Segnale Red LCG | 109. CCRIS 172 |
| 34. Segnale Red LCL | 110. 1860 Red |
| 35. BARIUM BIS[2-CHLORO-5-[(2-HYDROXY-1-NAPHTHYL)AZO]TOLUENE-4-SULPHONATE] | 111. Cosmetic Coral Red KO Bluish |
| 36. barium bis{5-chloro-2-[(E)-(2-hydroxynaphthalen-1-yl)diazenyl]-4-methylbenzenesulfonate} | 112. Red 1860 |
| 37. Bronze Red RO | 113. Red 16913H |
| 38. Vulcafor Red 2R | 114. Bronze Red 16913 Yellowish |
| 39. Vulcan Red LC | 115. Red Lake CM 20-5650 |
| 40. Latexol Scarlet R | 116. Isol Lake Red LCS 12527 |
| 41. Red Toner Z | 117. Red Lake C Toner RA-5190 |
| 42. Bronze Scarlet CA | 118. Cosmetic Pigment Yellow Red DVR |
| 43. Bronze Scarlet CT | 119. HSDB 4138 |
| 44. Irgalite Red CBN | 120. Lake Red CRLC-232 (barium) |
| 45. Irgalite Red CBR | 121. Red For Lake Toner RA-5190 |
| 46. Irgalite Red CBT | 122. Red Lake C Toner 20-5650 |
| 47. Irgalite Red MBC | 123. barium(2+);5-chloro-2-[(2-hydroxynaphthalen-1-yl)diazenyl]-4-methylbenzenesulfonate |
| 48. Paridine Red LCL | 124. Lake Red C RLC-232 (barium) |
| 49. Lake Red CC | 125. NCI-C53792 |
| 50. Lake Red CR | 126. Pigment Red (53:1) barium salt |
| 51. Red For Lake C | 127. Red For Lake C Toner RA-5190 |
| 52. Red ZhB | 128. Benzenesulfonic acid, 5-chloro-2-[(2-hydroxy-1-naphthalenyl)azo]-4-methyl-, barium salt (2:1) |
| 53. Vulcafix Scarlet R | 129. EINECS 225-935-3 |
| 54. Benzenesulfonic acid, 5-chloro-2-((2-hydroxy-1-naphthalenyl)azo)-4-methyl-, barium salt (2:1) | 130. C.I.Acid Blue 76 |
| 55. Eljon Lake Red C | 131. CI Pigment Red 53, barium salt (2:1) |
| 56. Lake Red CCT | 132. Organic Pigment Red 53:1 |
| 57. Lake Red RRG | 133. SCHEMBL4101684 |
| 58. Lake Red Toner C | 134. DTXSID3021229 |
| 59. Lake Red ZHB | 135. CHEBI:82435 |
| 60. Red Lake C Toner | 136. 1-(4-Chloro-o-sulfo-5-tolylazo)-2-naphthol, barium salt |
| 61. Sanyo Lake Red C | 137. 1-(4-Chloro-o-sulpho-5-tolylazo)-2-naphthol, barium salt |
| 62. Toner Lake Red C | 138. MFCD01941571 |
| 63. C.I. pigment red | 139. 5-Chloro-2-((2-hydroxy-1-naphthyl)azo)-p-toluenesulfonic acid, barium salt |
| 64. Bronze Scarlet CBA | 140. AKOS024421057 |
| 65. Bronze Scarlet CTA | 141. 5-Chloro-2-((2-hydroxy-1-naphthalenyl)azo)-4-methylbenzenesulfoni- c acid, barium salt(2:1) |
| 66. Texan Red Toner D | 142. 5-Chloro-2-((2-hydroxy-1-naphthalenyl)azo)-4-methylbenzenesulfonic acid, barium salt (2:1) |
| 67. Vulcol Fast Red L | 143. L0074 |
| 68. Sico Lake Red 2L | 144. C19382 |
| 69. Symuler Lake Red C | 145. D91238 |
| 70. Bronze Scarlet Toner | 146. EC 225-935-3 |
| 71. Termosolido Red LCG | 147. W-109150 |
| 72. Dainichi Lake Red C | 148. Q27155937 |
| 73. Recolite Red Lake C | 149. 1-(4-Chloro-o-sulfo-5-tolylazo)-2-naphthol Barium Salt |
| 74. Sumikaprint Red C-O | 150. barium(2+);5-chloro-2-[(E)-(2-hydroxynaphthalen-1-yl)diazenyl]-4-methylbenzenesulfonate |
| 75. Pigment Lake Red CD | 151. barium(2+);5-chloro-4-methyl-2-[(2Z)-2-(2-oxonaphthalen-1-ylidene)hydrazinyl]benzenesulfonate |
| 76. Pigment Lake Red LC | 152. Benzenesulfonic acid, 5-chloro-2-(2-(2-hydroxy-1-naphthalenyl)diazenyl)-4-methyl-, barium salt (2:1) |
IUPAC Name:  barium(2+);5-chloro-2-[(2-hydroxynaphthalen-1-yl)diazenyl]-4-methylbenzenesulfonate
InChI: InChI=1S/2C17H13ClN2O4S.Ba/c2*1-10-8-14(16(9-13(10)18)25(22,23)24)19-20-17-12-5-3-2-4-11(12)6-7-15(17)21;/h2*2-9,21H,1H3,(H,22,23,24);/q;;+2/p-2
InChIKey: POJOORKDYOPQLS-UHFFFAOYSA-L
Canonical SMILES: CC1=CC(=C(C=C1Cl)S(=O)(=O)[O-])N=NC2=C(C=CC3=CC=CC=C32)O.CC1=CC(=C(C=C1Cl)S(=O)(=O)[O-])N=NC2=C(C=CC3=CC=CC=C32)O.[Ba+2]
| | |
| --- | --- |
| Property Name | Property Value |
| Molecular Weight | 888.9 |
| Hydrogen Bond Donor Count | 2 |
| Hydrogen Bond Acceptor Count | 12 |
| Rotatable Bond Count | 4 |
| Exact Mass | 887.946509 |
| Monoisotopic Mass | 887.946509 |
| Topological Polar Surface Area | 221 Ų |
| Heavy Atom Count | 51 |
| Formal Charge | 0 |
| Complexity | 581 |
| Isotope Atom Count | 0 |
| Defined Atom Stereocenter Count | 0 |
| Undefined Atom Stereocenter Count | 0 |
| Defined Bond Stereocenter Count | 0 |
| Undefined Bond Stereocenter Count | 0 |
| Covalently-Bonded Unit Count | 3 |
| Compound Is Canonicalized | Yes |
[From:
PubChem
]