Pigment Sarı 12
| | |
| --- | --- |
| Ürün adı | PİGMENT SARI 12 |
| Eş anlamlı: | CIPigment Sarı 12; CIPY12; PY12; PY12 |
| CI | 21090 |
| CAS NUMARASI. | 6358-85-6;15541-56-7 |
| EINECS | 228-787-8 |
| Moleküler ağırlık | 629.49 |
| Moleküler formül | C32H26Cl2N6O4 |
| Renk | Sarı toz |

Moleküler yapı formülü: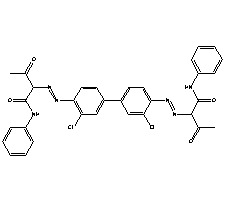 Pigment Sarı 12'nin Haslık Özellikleri:
| | |
| --- | --- |
| Işık hızı | 3 |
| Isı Direnci (℃) | 160 |
| Su direnci | 5 |
| Yağ Direnci | 5 |
| Asit Direnci | 4-5 |
| Alkali Direnci | 4 |
| Alkol Direnci | 4-5 |
Sarı toz, erime noktası 317 ℃. 150 ℃'de 20 dakika ısıtıldığında hafif yeşile döner. Yoğunluk 1.24-1.53g/cm3'tür. Konsantre sülfürik asitte kırmızı ışık algılama rengi ve seyreltmeden sonra kahverengi açık kırmızıdır; Konsantre nitrik asitte kahverengi açık sarıdır. Bu ürün CI Pigment Yellow 1'den daha iyidir, güçlü solvent direncine ve migrasyon direncine, yüksek renklendirme gücüne, iyi ışık direncine ve şeffaflığa sahiptir.
Ana uygulama: Su bazlı mürekkep, Ofset mürekkep, Solvent bazlı mürekkep, Tekstil baskı, Boya kaplama
Farklı müşterilerin ihtiyaçlarını karşılamak için çeşitli pigment sınıfları ve özelliklerimiz var, buna göre tavsiye edebilmemiz için lütfen uygulamanızı ve gereksinimlerinizi belirtin. E-posta: sy@sypigment.com
Pigment Sarı 12'nin Ürün Açıklaması:
Pigment Sarı 12, dört renkli baskının renk standardına uygun olarak nötr sarıdır; yüksek renk gücü, canlılık ve şeffaflık (Lutetia sarı 2JRT spesifik yüzey alanı 44m2/g'dir); yeniden kristalleşme eğilimi gösteren orta solvent direnci; ışık ve hava haslığı Düşük, diğer sarı pigmentlerden 1-2 derece daha düşük olan 1/1 ve 1/3 standart derinliklerde 3. derece ve 2. derecedir (PY13,83,127,176). Baskı mürekkeplerinde yaygın olarak kullanılır, baskı mürekkeplerini paketlemek için kullanılabilir, Amerika Birleşik Devletleri renkli macun formülasyonlarını faza sıkıştırır; pigment baskı ve plastik boyama için de kullanılabilir, yumuşak PVC'nin belirli bir migrasyon derecesi vardır, iyi ısı direnci, poliüretan köpük için kullanılmasını sağlar Plastik renklendirme.
Pigment sarı 12, mürekkep, boya, kauçuk, plastik, pigment baskı patı, kültür ve eğitim malzemelerinin renklendirilmesinde kullanılır.
Pigment Yellow 12 is an organic compound and an azo compound. It is a widely used yellow pigment. It is also classified as a diarylide pigment, being derived from 3,3'-dichlorobenzidine. It is closely related to Pigment Sarı 13, wherein the two phenyl groups are replaced by 2,4-xylyl.
TDS (Pigment Yellow 12)
MSDS (Pigment Yellow 12)
Eş anlamlı
C.I. Pigment Yellow 12
6358-85-6
Benzidine Yellow G
PIGMENT YELLOW 12
Diarylanilide Yellow
Helioyellow GW
Rangoon Yellow
Benzidene Yellow
Eljon Yellow BG
Helic Yellow GW
Light Yellow JB
Helio Yellow GWN
Light Yellow JBO
Light Yellow JBT
Pigment Yellow GT
Benzidine Yellow E
Kromon Yellow MTB
Carnelio Yellow GX
Irgalite Yellow BO
Monolite Yellow GT
Recolite Yellow BG
Siloton Yellow GTX
Benzidine Yellow GF
Benzidine Yellow GT
Benzidine Yellow HG
Irgalite Yellow BST
Irgalite Yellow BTR
Monolite Yellow GRA
Monolite Yellow GTA
Monolite Yellow GTN
Monolite Yellow GTS
Recolite Yellow BGT
Siloton Yellow 3GX
Benzidine Yellow GTR
Permanent Yellow DHG
Permanent Yellow GHG
Monolite Yellow GTNA
Benzidine Yellow Toner
Graphtol Yellow A-HG
Monolite Yellow 2GRA
Brilliant Yellow Slurry
Vulcol Fast Yellow GR
Benzidene Yellow YB-1
Symuler Fast Yellow GF
Amazon Yellow X2485
Kromon Yellow GXT Conc
Isol Benzidine Yellow G
Vulcafor Fast Yellow GT
Benzidine Yellow 1178
Sanyo Benzidine Yellow-B
Benzidine Yellow HG PLV
Hancock Yellow 10010
Lodestone Yellow YB-57
Daltolite Fast Yellow GT
Vulcafor Fast Yellow GTA
Verona Yellow X-1791
Segnale Light Yellow 2GR
Benzidine Lacquer Yellow G
Segnale Light Yellow 2GRT
Dainichi Benzidine Yellow G
Benzidene Yellow ABZ-245
Diarylide Yellow YT 553D
Benzidine Yellow YB 5722
Dainichi Benzidine Yellow GT
Dainichi Benzidine Yellow GY
Benzidine Yellow 45-2650
Benzidine Yellow 45-2680
Benzidine Yellow 45-2685
Dainichi Benzidine Yellow GRT
Dainichi Benzidine Yellow GYT
Isol Benzidine Yellow Gapropyl
Isol Benzidine Yellow Gbpropyl
Isol Benzidine Yellow G 2537
Isol Benzidine Yellow G Special
Benzidine Yellow Toner YT-378
No. 49 Conc. Benzidine Yellow
UNII-N52TUS5TRY
Benzidine Yellow Toner YA-8081
PigmentYellow12
NCI-C03269
C.I. 21090
15541-56-7
Benzidene Yellow WD-266 (Water Dispersible)
N52TUS5TRY
2-[[4-[4-[(1-anilino-1,3-dioxobutan-2-yl)diazenyl]-3-chlorophenyl]-2-chlorophenyl]diazenyl]-3-oxo-N-phenylbutanamide
Monolite GT
Butanamide, 2,2′-((3,3′-dichloro(1,1′-biphenyl)-4,4′-diyl)bis(azo))bis(3-oxo-N-phenyl-
Segnale Yellow HG
2,2′-((3,3′-Dichloro-[1,1′-biphenyl]-4,4′-diyl)bis(diazene-2,1-diyl))bis(3-oxo-N-phenylbutanamide)
Siliton Yellow GTX
Siliton Yellow 3GX
Diarylide Yellow AAA
Yellow 205
Benzidine Yellow YB-1
Seikafast Yellow 2300
Sumikarrint Yellow 3A-0
Symuler Fast Yellow 219
Symuler Fast Yellow 224
Zlut pigment 12 [Czech]
2,2′-[(3,3′-dichlorobiphenyl-4,4′-diyl)di(E)diazene-2,1-diyl]bis(3-oxo-N-phenylbutanamide)
Butanamide, 2,2′-[(3,3′-dichloro[1,1′-biphenyl]-4,4′-diyl)bis(azo)]bis[3-oxo-N-phenyl-
Benzidine Yellow ABZ-245
Segnale Light Yellow 2 GR
Zlut pigment 12
Symuler Fast Yellow 4078
CCRIS 203
Yellow No. 205 (Japan)
HSDB 2926
EINECS 228-787-8
NSC 521237
Benzidingelb
Benzidine Yellow WD-266 (water dispersible)
C.I. Pigment Yellow 12 (VAN)
CI 21090
Amazon Yellow X-2485
C.I.Pigment Yellow 12
Acetoacetanilide, 2,2′-((3,3′-dichloro-4,4′-biphenylene)diazo)bis-
Bis(acetyl-N-phenylcarbamylmethyl)-4,4′-disazo-3,3′-dichlorobiphenyl
EC 228-787-8
2,2′-((3,3′-Dichloro(1,1′-biphenyl)-4,4′-diyl)-bis(azo))bis(3-oxo-N-phenyl)-butanamide
2,2′-((3,3′-Dichloro(1,1′-biphenyl)-4,4′-diyl)bis(azo))bis(3-oxo-N-phenylbutyramide)
SCHEMBL305548
DTXSID1021451
NSC521237
Acetoacetanilide, 2,2′-((3,3′-dichloro-4,4′-biphenylylene)diazo)bis-
NSC-521237
2,2′-((3,3′-Dichloro(1,1′-biphenyl)-4,4′-diyl)bis(azo))bis(3-oxo-N-phenylbutanamide)
Butanamide, 2,2′-((3,3′-dichloro(1,1′-biphenyl)4,4′-diyl)bis(azo))bis(3-oxo-N-phenyl-
Butanamide, 2,2′-((3,3′-dichloro(1,1′-diphenyl)-4,4′-diyl)bis(azo))bis(3-oxo-N-phenyl-
DS-012240
Q15720578
Bis(acetyl-N-phenylcarbamylmethyl)-4,3′-dichlorobiphenyl
Acetoacetanilide,2′-[(3,3′-dichloro-4,4′-biphenylylene)diazo]bis-
2,3′-Dichloro(1,1′-biphenyl)-4,4′-diyl]-bis(azo)]bis(3-oxo-N-phenyl)-butanamide
Butanamide,2′-[(3,3′-dichloro[1,1′-biphenyl]-4,4′-diyl)bis(azo)]bis[3-oxo-N-phenyl-
86349-57-7
Butanamide, 2,2′-((3,3′-dichloro(1,1′-biphenyl)-4,4′-diyl)bis(2,1-diazenediyl))bis(3-oxo-N-phenyl-
Butanamide, 2,2′-((3,3′-dichloro(1,1′-biphenyl)-4,4′-diyl)bis(azo))bis(3-oxo-N-phenyl-, labeled with carbon-14
IUPAC Name:  2-[[4-[4-[(1-anilino-1,3-dioxobutan-2-yl)diazenyl]-3-chlorophenyl]-2-chlorophenyl]diazenyl]-3-oxo-N-phenylbutanamide
InChI: InChI=1S/C32H26Cl2N6O4/c1-19(41)29(31(43)35-23-9-5-3-6-10-23)39-37-27-15-13-21(17-25(27)33)22-14-16-28(26(34)18-22)38-40-30(20(2)42)32(44)36-24-11-7-4-8-12-24/h3-18,29-30H,1-2H3,(H,35,43)(H,36,44)
InChIKey: GNCOVOVCHIHPHP-UHFFFAOYSA-N
Canonical SMILES: CC(=O)C(C(=O)NC1=CC=CC=C1)N=NC2=C(C=C(C=C2)C3=CC(=C(C=C3)N=NC(C(=O)C)C(=O)NC4=CC=CC=C4)Cl)Cl
| | |
| --- | --- |
| Property Name | Property Value |
| Molecular Weight | 629.5 |
| XLogP3-AA | 8.1 |
| Hydrogen Bond Donor Count | 2 |
| Hydrogen Bond Acceptor Count | 8 |
| Rotatable Bond Count | 11 |
| Exact Mass | 628.1392587 |
| Monoisotopic Mass | 628.1392587 |
| Topological Polar Surface Area | 142 Ų |
| Heavy Atom Count | 44 |
| Formal Charge | 0 |
| Complexity | 979 |
| Isotope Atom Count | 0 |
| Defined Atom Stereocenter Count | 0 |
| Undefined Atom Stereocenter Count | 2 |
| Defined Bond Stereocenter Count | 0 |
| Undefined Bond Stereocenter Count | 0 |
| Covalently-Bonded Unit Count | 1 |
| Compound Is Canonicalized | Yes |
[From:
PubChem
]