Pigment Red 48:4
| | |
| --- | --- |
| Product Name | PIGMENT RED 48:4 |
| Synonyms: | C.I.Pigment Red 48:4; C.I.PR48:4; PR48:4; P.R.48:4 |
| C.I. | 15865:4 |
| CAS NO. | 5280-66-0 / 1325-12-8 |
| EINECS | 226-102-7 |
| Molecular Weight | 422.84 |
| Molecular Formula | C18H15ClN2O6S |
| Density | 1.33g/cm3 |
| Color | Red powder |

Molecular structure formula: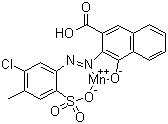 Fastness Properties of Pigment Red 48:4:
| | |
| --- | --- |
| Light Fastness | 5 |
| Heat Resistance(℃) | 180 |
| Water Resistance | 5 |
| Oil Resistance | 4 |
| Acid Resistance | 3 |
| Alkali Resistance | 4 |
| Alcohol Resistance | 4-5 |
Main application: Plastic, Paint & Coating, Textile printing
We have various pigment grades and properties to meet different customers' needs, please specify your application and requirements so that we can recommend accordingly.  E-mail: sy@sypigment.com
Product Description of Pigment Red 48:4:
Manganese salt lake, the shade is more blue than C.I. Pigment Red 48:3, and more yellow than C.I. Pigment Red 48:4. Used for paint coloring, mixed with chrome molybdenum orange to increase hiding power, more light resistance than other salt lakes, air-drying paint reaches level 7, the presence of manganese has a catalytic effect on the drying process; used for polyolefin and soft Coloring of PVC, no bleeding (insulated cable), heat resistance in PE is 200-290℃/5min; it can also be used for coloring of packaging printing ink, and the presence of manganese salt in printing ink will also accelerate drying.  Mainly used for the coloring of inks, plastics, coatings, cultural and educational supplies and pigment printing.