Pigment Violet 23
| | |
| --- | --- |
| Product Name | PIGMENT VIOLET 23 |
| Synonyms: | C.I.Pigment Violet 23; C.I.PV23; PV23; P.V.23 |
| C.I. | 51319 |
| CAS NO. | 6358-30-1 |
| EINECS | 228-767-9 |
| Molecular Weight | 589.47 |
| Molecular Formula | C34H22Cl2N4O2 |
| Density | 1.53g/cm3 |
| Color | Violet powder |

Molecular structure formula: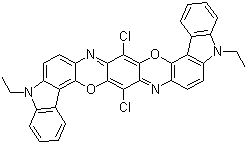 Fastness Properties of Pigment Violet 23:
| | |
| --- | --- |
| Light Fastness | 7 |
| Heat Resistance(℃) | 200 |
| Water Resistance | 5 |
| Oil Resistance | 5 |
| Acid Resistance | 5 |
| Alkali Resistance | 5 |
| Alcohol Resistance | 5 |
Main application: Water based ink, Offset ink, Solvent based ink, Plastic, Paint, Textile printing
We have various pigment grades and properties to meet different customers' needs, please specify your application and requirements so that we can recommend accordingly.  E-mail: sy@sypigment.com
Product Description of Pigment Violet 23:
Mainly used for coloring of coatings, inks, rubber and plastics, and also used for coloring of synthetic fibers.Carbazosin is a violet product with strong comprehensive application and unusual high color strength. The specific surface area of Monolite Violet RN is 74m2/g. Widely used in coatings, printing inks, plastics and fabric printing and dyeing, etc.: It has good fastness to varnish when the coating is colored. It can be used for air-drying paint, automotive coating OEM and baking paint, especially for CuPc color mixing. It is used for coloring of plastics, heat-resistant to 280°C in polyolefin, and has high tinting strength (HDPE up to 1/3SD only needs a pigment concentration of 0.07%); also used for polyester and PE raw materials Pulp coloring.
Pigment violet 23 is an organic compound that is a commercial pigment. It is member of the dioxazine family of heterocyclic compounds, but derived from carbazoles. It is prepared by condensation of chloranil and 3-amino-N-ethylcarbazole. It has a centrosymmetric angular structure. For many years, the structure was assigned, incorrectly, as having a "linear structure" (EC no. 228-767-9, CAS RN 6358-30-1) which differ in terms of the carbazole ring fusion.
Pigment violet 23 is prepared by condensation of an aniline with chloranil.
TDS (Pigment Violet 23)
MSDS (Pigment Violet 23)
Synonyms
6358-30-1
C.I. Pigment Violet 23
Carbazole Violet
Dioxazine Violet
UNII-8U8Z6628KF
8U8Z6628KF
2,20-dichloro-14,32-diethyl-18,36-dioxa-4,14,22,32-tetrazanonacyclo[19.15.0.03,19.05,17.07,15.08,13.023,35.025,33.026,31]hexatriaconta-1,3,5(17),6,8,10,12,15,19,21,23(35),24,26,28,30,33-hexadecaene
8,18-Dichloro-5,15-diethyl-5,15-dihydrodiindolo(3,2-b:3′,2′-m)triphenodioxazine
Permanent Violet R
Cyanadur Violet
Heliogen Violet
Dioxazine purple
Permanent Violet
Lionol Violet HR
Lionogen Violet RL
Sandorin Violet BL
Vynamon Violet 2B
Hostaperm Violet RL
PV Fast Violet BL
Chromofine Violet RE
Lake Fast Violet RL
Unisperse Violet B-E
Carbazole Violet Crude
Helio Fast Violet BN
Lake Fast Violet RLB
EMC Violet RL 10
Monolite Fast Violet R
Heliogen Violet R Toner
Paliogen Violet 5890
Heliofast Red Violet EE
Sumitone Fast Violet RL
Symuler Fast Violet BBL
EB Violet 4B7906
Fastogen Super Violet RN
PV Fast Violet RL-SPE
Sumitone Fast Violet RLS
Carbazole Dioxazine Violet
Symuler Fast Violet BBLN
Fastogen Super Violet RTS
Fastogen Super Violet RVS
Lionogen Violet R 6100
Paliogen Violet L 5890
Sumikacoat Fast Violet RSB
Hostaperm Violet RL Special
Fastogen Super Violet RN-S
Sumitone Fast Violet RL 4R
SCHEMBL342958
DTXSID2036293
Sanyo Permanent Violet BL-D 422
EINECS 228-767-9
MFCD00281166
ZINC100507961
Hostaperm Violet RL Special 14-4007
CI 51319
FT-0623456
D94662
EC 228-767-9
Q27271021
8,18-Dichloro-5,15-diethyl-5,15-dihydrodiindolo(3,2-b:3′,2′-m)tri- phenodioxazine
Diindolo(3,2-b:3′,2′-m)triphenodioxazine, 8,18-dichloro-5,15-diethyl-5,15-dihydro-
Diindolo(3,2-b:3′,2′-m-)triphenodioxazine, 8,18-dichloro-5,15-diethyl-5,15-dihydro-
IUPAC Name:  2,20-dichloro-14,32-diethyl-18,36-dioxa-4,14,22,32-tetrazanonacyclo[19.15.0.03,19.05,17.07,15.08,13.023,35.025,33.026,31]hexatriaconta-1,3,5(17),6,8,10,12,15,19,21,23(35),24,26,28,30,33-hexadecaene
InChI: InChI=1S/C34H22Cl2N4O2/c1-3-39-23-11-7-5-9-17(23)19-13-21-27(15-25(19)39)41-33-29(35)32-34(30(36)31(33)37-21)42-28-16-26-20(14-22(28)38-32)18-10-6-8-12-24(18)40(26)4-2/h5-16H,3-4H2,1-2H3
InChIKey: CGLVZFOCZLHKOH-UHFFFAOYSA-N
Canonical SMILES: CCN1C2=CC=CC=C2C3=CC4=C(C=C31)OC5=C(C6=NC7=C(C=C8C(=C7)C9=CC=CC=C9N8CC)OC6=C(C5=N4)Cl)Cl
| | |
| --- | --- |
| Property Name | Property Value |
| Molecular Weight | 589.5 |
| XLogP3-AA | 8.2 |
| Hydrogen Bond Donor Count | 0 |
| Hydrogen Bond Acceptor Count | 4 |
| Rotatable Bond Count | 2 |
| Exact Mass | 588.1119813 |
| Monoisotopic Mass | 588.1119813 |
| Topological Polar Surface Area | 53 Ų |
| Heavy Atom Count | 42 |
| Formal Charge | 0 |
| Complexity | 1180 |
| Isotope Atom Count | 0 |
| Defined Atom Stereocenter Count | 0 |
| Undefined Atom Stereocenter Count | 0 |
| Defined Bond Stereocenter Count | 0 |
| Undefined Bond Stereocenter Count | 0 |
| Covalently-Bonded Unit Count | 1 |
| Compound Is Canonicalized | Yes |
[From:
PubChem
]