Pigment Red 242
| | |
| --- | --- |
| Product Name | PIGMENT RED 242 |
| Synonyms | C.I.Pigment Red 242; C.I.PR242; PR242; P.R.242 |
| C.I. | 20067 |
| CAS NO. | 52238-92-3 |
| EINECS | 257-776-0 |
| Molecular Weight | 930.46 |
| Molecular Formula | C42H22Cl4F6N6O4 |
| Density | 1.57g/cm3 |
| Color | Red powder |

Molecular structure formula: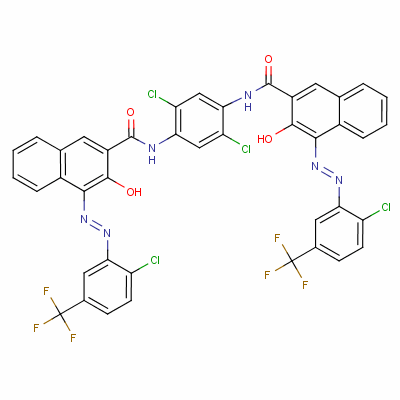 Main application: Water based ink, Offset ink, Solvent based ink, Plastic, Paint, Textile printing
We have various pigment grades and properties to meet different customers' needs, please specify your application and requirements so that we can recommend accordingly.  E-mail: sy@sypigment.com
Product Description of Pigment Red 242:
Pigment Red 242 has a yellowish red or bright red phase, solvent resistance and excellent acid/alkali resistance. It is mainly used for the coloring of plastics such as PVC, PS, ABS, and polyolefins. It is heat-resistant to 300°C (1/3SD) in HDPE, but affects dimensional deformation. It is suitable for the coloring of polypropylene pulp and is resistant to migration in soft PVC. It has medium tinting power; it is also recommended for coatings, automotive coatings, varnish resistant, heat-resistant 180℃; used for high-end printing inks, such as PVC film and metal decorative inks, laminated plastic films, etc.