Pigment Red 254
| | |
| --- | --- |
| Product Name | PIGMENT RED 254 |
| Synonyms | C.I.Pigment Red 254; C.I.PR254; PR254; P.R.254 |
| C.I. |  56110 |
| CAS NO. | 122390-98-1 |
| Molecular Weight | 357.19 |
| Molecular Formula | C18H10Cl2N2O2 |
| Density | 1.56g/cm3 |
| Color | Red powder |

Molecular structure formula: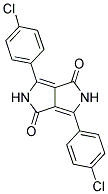 Main application: Water based ink, Offset ink, Solvent based ink, Plastic, Paint, Textile printing
We have various pigment grades and properties to meet different customers' needs, please specify your application and requirements so that we can recommend accordingly.  E-mail: sy@sypigment.com
Product Description of Pigment Red 254:
Pigment Red 254 is a neutral red color, has excellent solvent resistance, and has a light fastness level of 8. Mainly used in automotive primers. Its flocculation can be improved by adding additives. In order to reduce costs, it can be matched with CI Pigment Red 170, which has stronger blue light but lower light resistance, or it can be matched with quinacridone. Transparent blue light red; also widely used in plastics (PVC, PS, polyolefin, etc.) coloring, in HDPE (1/3SD) heat resistance 300℃/5min.