Pigment Yellow 74
| | |
| --- | --- |
| Product Name | PIGMENT YELLOW 74 |
| Synonyms | C.I.Pigment Yellow 74; C.I.PY74; PY74; P.Y.74 |
| C.I. | 11741 |
| CAS NO. | 6358-31-2 |
| EINECS | 228-768-4 |
| Molecular Weight | 386.36 |
| Molecular Formula | C18H18N4O6 |
| Density | 1.33g/cm3 |
| Color | Yellow powder |

Molecular structure formula: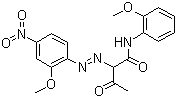 Fastness Properties of Pigment Yellow 74:
| | |
| --- | --- |
| Light Fastness | 5-6 |
| Heat Resistance(℃) | 140 |
| Water Resistance | 5 |
| Oil Resistance | 4-5 |
| Acid Resistance | 5 |
| Alkali Resistance | 5 |
| Alcohol Resistance | 4-5 |
Color: bright yellow powder
Relative density: 1.28-1.51
Bulk density/(lb/gal): 10.6-12.5
Melting point/℃: 275-293
Average particle size/ μ m:0.18
Particle shape: rod or needle
Specific surface area/(m2/g): 14
PH value/(10% slurry): 5.5-7.6
Oil absorption/(g/100g): 27-45
Covering power: opaque/semi-transparent/transparent
Main application: Paint,Water based ink, Textile printing, Plastic
We have various pigment grades and properties to meet different customers' needs, please specify your application and requirements so that we can recommend accordingly. E-mail: sy@sypigment.com
Product Description of Pigment Yellow 74:
An important pigment for the coloring of inks and coatings, greening shade (between CI Pigment Yellow 1 and Pigment Yellow 3), the coloring strength is higher than general monoazo pigments; slightly reddish than CI Pigment Yellow 12, 1/ Pigment Yellow 12 requires 4.5% under 3SD, and Pigment Yellow 74 requires 4.2%; there are varieties with different particle sizes (specific surface area is 10-70m2/g, of which Hansa Yellow 5GX02 specific surface area is 16m2/g), large particle size dosage form (10-20m2/g) shows high hiding power. Compared with fine-grained varieties, non-transparent displays are more reddish, more light-resistant, and have a slightly lower vividness. It is especially suitable for coating industrial air-drying paints. It can increase the concentration to further improve the hiding power without changing the rheology.
Pigment Yellow 74 is an organic pigment. It is a mono azo pigment powder, with greenish yellow color, and it has a redder tint than pigment yellow 12. It offers good color strength, and good dispersion and lower viscosity. It is good use in a wide variety of applications including plastics, paints, printing inks. This product is especially good for coating industry air-drying paints.
TDS (Pigment Yellow 74)
MSDS (Pigment Yellow 74)
Synonyms
C.I. Pigment Yellow 74
6358-31-2
Dalamar Yellow
Pigment Yellow 74
Butanamide, 2-((2-methoxy-4-nitrophenyl)azo)-N-(2-methoxyphenyl)-3-oxo-
C.I. 11741
Luna Yellow
2-[(E)-(2-Methoxy-4-nitrophenyl)diazenyl]-N-(2-methoxyphenyl)-3-oxobutanamide
Butanamide, 2-[(2-methoxy-4-nitrophenyl)azo]-N-(2-methoxyphenyl)-3-oxo-
Ponolith Yellow Y
Butanamide,2-[(2-methoxy-4-nitrophenyl)azo]-N-(2-methoxyphenyl)-3-oxo-
Hansa Brilliant Yellow 5GX
Permanent Yellow, lead free
CCRIS 3192
HSDB 5181
EINECS 228-768-4
CI 11741
PigmentYellow74
2-((2-Methoxy-4-nitrophenyl)azo)-o-acetoacetanisidide
PY74 dye
Color Index 11741
2-((2-Methoxy-4-nitrophenyl)azo)-N-(2-methoxyphenyl)-3-oxobutyramide
EC 228-768-4
Pigment Yellow 74, tech.
SCHEMBL270063
DTXSID7025920
SCHEMBL12912517
MFCD00070296
2-[(2-methoxy-4-nitrophenyl)diazenyl]-N-(2-methoxyphenyl)-3-oxobutanamide
CI11741
CI-11741
C.I.11741
FT-0726755
W-110107
Q27269580
2-((2-methoxy-4-nitrophenyl)azo)-n-(2-methoxyphenyl)-3-oxobutanamide
2-[(2-Methoxy-4-nitrophenyl)azo]-N-(2-methoxyphenyl)-3-oxo-butanamide
2-[(E)-(2-Methoxy-4-nitrophenyl)diazenyl]-N-(2-methoxyphenyl)-3-oxobutanamide
Butanamide, 2-(2-(2-methoxy-4-nitrophenyl)diazenyl)-N-(2-methoxyphenyl)-3-oxo-
IUPAC Name:  2-[(2-methoxy-4-nitrophenyl)diazenyl]-N-(2-methoxyphenyl)-3-oxobutanamide
InChI: InChI=1S/C18H18N4O6/c1-11(23)17(18(24)19-13-6-4-5-7-15(13)27-2)21-20-14-9-8-12(22(25)26)10-16(14)28-3/h4-10,17H,1-3H3,(H,19,24)
InChIKey: ZTISORAUJJGACZ-UHFFFAOYSA-N
Canonical SMILES: CC(=O)C(C(=O)NC1=CC=CC=C1OC)N=NC2=C(C=C(C=C2)[N+](=O)[O-])OC
| | |
| --- | --- |
| Property Name | Property Value |
| Molecular Weight | 386.4 |
| XLogP3-AA | 3.3 |
| Hydrogen Bond Donor Count | 1 |
| Hydrogen Bond Acceptor Count | 8 |
| Rotatable Bond Count | 7 |
| Exact Mass | 386.1226343 |
| Monoisotopic Mass | 386.1226343 |
| Topological Polar Surface Area | 135 Ų |
| Heavy Atom Count | 28 |
| Formal Charge | 0 |
| Complexity | 593 |
| Isotope Atom Count | 0 |
| Defined Atom Stereocenter Count | 0 |
| Undefined Atom Stereocenter Count | 1 |
| Defined Bond Stereocenter Count | 0 |
| Undefined Bond Stereocenter Count | 0 |
| Covalently-Bonded Unit Count | 1 |
| Compound Is Canonicalized | Yes |
[From:
PubChem
]