Pigment Orange 5
| | |
| --- | --- |
| Product Name | PIGMENT ORANGE 5 |
| Synonyms | C.I.Pigment Orange 5; C.I.PO5; PO5; P.O.5 |
| C.I. | 12075 |
| CAS NO. | 3468-63-1 |
| EINECS | 222-429-4 |
| Molecular Weight | 338.27 |
| Molecular Formula | C16H10N4O5 |
| Density | 1.52g/cm3 |
| Color | Orange powder |

Molecular structure formula: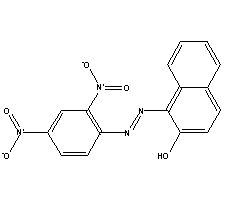 Fastness Properties of Pigment Orange 5:
| | |
| --- | --- |
| Light Fastness | 5-6 |
| Heat Resistance(℃) | 140 |
| Water Resistance | 4 |
| Oil Resistance | 4-5 |
| Acid Resistance | 4-5 |
| Alkali Resistance | 4-5 |
| Alcohol Resistance | 4-5 |
Main application: Paint & Coating
We have various pigment grades and properties to meet different customers' needs, please specify your application and requirements so that we can recommend accordingly.  E-mail: sy@sypigment.com
Product Description of Pigment Orange 5:
It is one of the important orange pigment product. There are two different particle size products. The larger particle size (Irgalite Red 2GW has a specific surface area of 14m2/g) has stronger red light, high hiding power, light fastness level 6, and reduced color fastness to dilution. Mainly used for air-drying paint; also used for offset printing ink, packaging printing ink, pigment printing paste is in large demand, and its light fastness can reach level 7; it can also be used for rigid PVC (light fastness level 8), paper Coloring, fine art color.
Mainly used in inks, paints, paint printing pastes, watercolor and oil color pigments and pencils, and can also be used in rubber and plastic products.
Pigment Orange 5 is known as Permanent Red P-F-7RK. It has a heat resistance of 120ºC. This product is suitable for use in water-based decorative paints. Its C.I. name is Pigment Orange 5 and the C.I. NO. is 12075. Pigment Orange 5 is a reddish orange monoazo pigment. It is recommended for decorative coatings, textile printing, and offset, water-based, solvent-based, and UV inks.
TDS (Pigment Orange 5)
MSDS (Pigment Orange 5)
Synonyms
Pigment orange 5
3468-63-1
Permanent Orange
C.I. Pigment Orange 5
Dinitroaniline Orange
Permansa Orange
Permatone Orange
Light Orange R
Hansa Orange RN
Orange Pigment X
Silopol Orange R
Carnelio Red 2G
Dinitroaniline Red
Irgalite Red 2G
Permanent Red GG
Fastona Red 2G
Oralith Red 2GL
Siegle Orange 2S
Silosol Orange RN
Siloton Orange RL
Chromatex Orange R
Graphtol Red 2GL
Irgalite Red 2GW
Irgalite Red PV8
Versal Orange RNL
Dinitraniline Orange
Pigment Fast Orange
Lake Red 2GL
Permanent Orange GG
Permanent Orange HD
Isol Fast Red 2G
Calcotone Orange 2R
Syton Fast Red 2G
D and C Orange No. 17
Helio Fast Orange RN
Helio Fast Orange RT
Signal Orange Y-17
D&C Orange 17
Lutetia Fast Orange R
Tertropigment Red P2G
Monolite Fast Red 2G
Orange No. 203
Helio Fast Orange 3RN
Helio Fast Orange 3RT
Irgalite Fast Red 2GL
Nippon Orange X-881
11048 Orange
Segnale Light Orange RN
Tertropigment Orange LRN
Monolite Fast Orange 2R
Segnale Light Orange RNG
Dainichi Permanent Red GG
Permanent Orange DN Toner
Brilliant tangerine 13030
C.I. 12075
Dinitroaniline Orange ND-204
Monolite Fast Paper Orange 2R
Permaton Orange XL 45-3015
Permanent Orange Toner RA-5650
1-[(2,4-Dinitrophenyl)azo]-2-naphthol
UNII-E27LT0986O
1-[(2,4-dinitrophenyl)diazenyl]naphthalen-2-ol
1-((2,4-Dinitrophenyl)azo)-2-naphthol
E27LT0986O
1-((2,4-Dinitrophenyl)azo)-2-naphthalenol
2-Naphthalenol, 1-((2,4-dinitrophenyl)azo)-
2-Naphthalenol, 1-[(2,4-dinitrophenyl)azo]-
Signal Orange Orange Y-17
D&C Orange No. 17
D & C Orange No. 17
CCRIS 4902
C.I Pigment Orange 5
1-[(2,4-DINITROPHENYL)AZO]-2-NAPHTHALENOL
EINECS 222-429-4
NSC 15975
BRN 0964718
AI3-30759
HSDB 7721
Permanent orange 5
2-NAPHTHOL, 1-((2,4-DINITROPHENYL)AZO)-
CI 12075
D+C Orange No. 17
EC 222-429-4
pigment orange 5, AldrichCPR
SCHEMBL305524
SCHEMBL375610
1-[(E)-(2,4-dinitrophenyl)diazenyl]naphthalen-2-ol
CHEMBL1982121
DTXSID6029258
SCHEMBL13474931
2-Naphthol,4-dinitrophenyl)azo]-
NSC15975
MFCD00059524
NSC-15975
ZINC17147410
2-Naphthalenol,4-dinitrophenyl)azo]-
Pigment Orange 5, analytical standard
ZINC101154953
ZINC113691947
1-(2,4-Dinitrophenylazo)-2-naphthol
NCI60_001177
C.I.12075
P0587
P2886
D91975
1-[(E)-(2,4-dinitrophenyl)diazenyl]-2-naphthol
468P631
W-109901
(E)-1-((2,4-dinitrophenyl)diazenyl)naphthalen-2-ol
2-Naphthalenol, 1-(2-(2,4-dinitrophenyl)diazenyl)-
Q27276766
1-[2-(2,4-Dinitrophenyl)hydrazono]naphthalene-2(1H)-one
IUPAC Name: 1-[(2,4-dinitrophenyl)diazenyl]naphthalen-2-ol
InChI: InChI=1S/C16H10N4O5/c21-15-8-5-10-3-1-2-4-12(10)16(15)18-17-13-7-6-11(19(22)23)9-14(13)20(24)25/h1-9,21H
InChIKey: HBHZKFOUIUMKHV-UHFFFAOYSA-N
Canonical SMILES: C1=CC=C2C(=C1)C=CC(=C2N=NC3=C(C=C(C=C3)[N+](=O)[O-])[N+](=O)[O-])O
| | |
| --- | --- |
| Property Name | Property Value |
| Molecular Weight | 338.27 |
| XLogP3-AA | 4.3 |
| Hydrogen Bond Donor Count | 1 |
| Hydrogen Bond Acceptor Count | 7 |
| Rotatable Bond Count | 2 |
| Exact Mass | 338.0651194 |
| Monoisotopic Mass | 338.0651194 |
| Topological Polar Surface Area | 137 Ų |
| Heavy Atom Count | 25 |
| Formal Charge | 0 |
| Complexity | 532 |
| Isotope Atom Count | 0 |
| Defined Atom Stereocenter Count | 0 |
| Undefined Atom Stereocenter Count | 0 |
| Defined Bond Stereocenter Count | 0 |
| Undefined Bond Stereocenter Count | 0 |
| Covalently-Bonded Unit Count | 1 |
| Compound Is Canonicalized | Yes |
[From:
PubChem
]