Pigment Orange 62
| | |
| --- | --- |
| Product Name | PIGMENT ORANGE 62 |
| Synonyms | C.I.Pigment Orange 62; C.I.PO62; PO62; P.O.62 |
| C.I. 聽 | 11775 |
| CAS NO. | 52846-56-7 |
| EINECS | 258-221-5 |
| Molecular Weight | 382.33 |
| Molecular Formula | C17H14N6O5 |
| Density | 1.58g/cm3 |
| Color | Orange powder |

Molecular structure formula: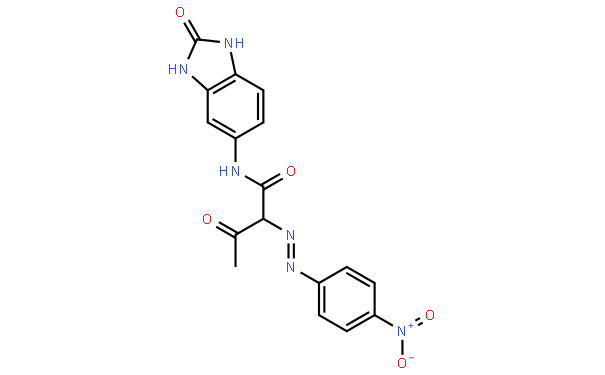 Main application: Water based ink, Offset ink, Solvent based ink, Plastic, Paint, Textile printing
We have various pigment grades and properties to meet different customers' needs, please specify your application and requirements so that we can recommend accordingly.  E-mail: sy@sypigment.com
Product Description of Pigment Orange 62:
Pigment Orange 62 is a benzimidazolone derivative, which gives a pure and strong yellowish orange color with a hue of 39.9 degrees (1/3SD, HDPE) and high hiding power. The specific surface area of Novoperm Orange H5G70 is 12m2/g. Mainly used for paint coloring, good rheology can increase the pigment concentration without affecting the gloss, such as automotive coatings (OEM), agricultural machinery and other high-end coatings; also used for hard PVC, PP original pulp coloring and offset printing and water-based letterpress printing ink.