Pigment Yellow 180
| | |
| --- | --- |
| Product Name | PIGMENT YELLOW 180 |
| Synonyms | C.I.Pigment Yellow 180; C.I.PY180; PY180; P.Y.180 |
| C.I. | 21290 |
| CAS NO. | 77804-81-0 |
| Molecular Weight: | 732.7 |
| Molecular Formula | C36H32N10O8 |
| Density | 1.52g/cm3 |
| Color | Yellow powder |

Molecular structure formula: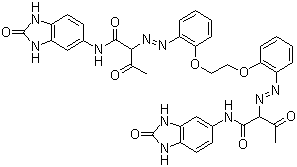 Fastness Properties of Pigment Yellow 180:
| | |
| --- | --- |
| Light Fastness | 6 |
| Heat Resistance(℃) | 180 |
| Water Resistance | 5 |
| Oil Resistance | 4 |
| Acid Resistance | 5 |
| Alkali Resistance | 5 |
| Alcohol Resistance | 4-5 |
Main application: We have various pigment grades and properties to meet different customers' needs, please specify your application and requirements so that we can recommend accordingly.  E-mail: sy@sypigment.com
Product Description of Pigment Yellow 180:
Pigment Yellow 180 is a hue angle of 88.7 degrees (1/3S.D., HDPE). The specific surface area of PVFast yellow HG is 24m2/g; it is suitable for plastic coloring, and its heat resistance stability in HDPE is At 290°C, this pigment is the same as the slightly reddish CI Pigment Yellow 181, without dimensional deformation, and is more light fast than the latter (light fastness is 6-7); used for the coloring of polypropylene puree, not in plastic PVC Migrate, can also be used for ABS coloring; suitable for high-end printing inks, such as: metal decorative paint solvent-based and water-based packaging printing inks, with good dispersion and flocculation stability.
Pigment Yellow 180 is a half transparent greenish yellow pigment with high color strength. This product is commonly used in solvent-based inks, offset inks, solvent-based decorative paints, and solvent-based industrial paints.
TDS (Pigment Yellow 180)
MSDS (Pigment Yellow 180)
Synonyms
Pigment Yellow 180
77804-81-0
UNII-V05FA9PR1F
V05FA9PR1F
2-[[2-[2-[2-[[1,3-dioxo-1-[(2-oxo-1,3-dihydrobenzimidazol-5-yl)amino]butan-2-yl]diazenyl]phenoxy]ethoxy]phenyl]diazenyl]-3-oxo-N-(2-oxo-1,3-dihydrobenzimidazol-5-yl)butanamide
Butanamide, 2,2′-(1,2-ethanediylbis(oxy-2,1-phenyleneazo))bis(N-(2,3-dihydro-2-oxo-1H-benzimidazol-5-yl)-3-oxo-
Butanamide, 2,2′-[1,2-ethanediylbis(oxy-2,1-phenyleneazo)]bis[N-(2,3-dihydro-2-oxo-1H-benzimidazol-5-yl)-3-oxo-
EINECS 278-770-4
C36H32N10O8
EC 278-770-4
C.I.Pigment Yellow 180
Pigment yellow 180, tech.
SCHEMBL1377724
MFCD08445243
2,2′-(Ethylenebis(oxyphenyl-2,1-eneazo))bis(N-(2,3-dihydro-2-oxo-1H-benzimidazol-5-yl)-3-oxobutyramide
Butanamide, 2,2′-(1,2-ethanediylbis(oxy-2,1-phenylene-2,1-diazenediyl))bis(N-(2,3-dihydro-2-oxo-1H-benzimidazol-5-yl)-3-oxo-
O873
FT-0745100
804P810
W-111526
2,2′-(1E,1'E)-(2,2′-(ethane-1,2-diylbis(oxy))bis(2,1-phenylene))bis(diazene-2,1-diyl)bis(3-oxo-N-(2-oxo-2,3-dihydro-1H-benzo[d]imidazol-5-yl)butanamide)
2,2′-(Ethylenebis(oxyphenyl-2,1-eneazo))bis(N-(2,3-dihydro-2-oxo-1H-benzimidazol-5-yl)-3-oxobutyramide)
IUPAC Name: 2-[[2-[2-[2-[[1,3-dioxo-1-[(2-oxo-1,3-dihydrobenzimidazol-5-yl)amino]butan-2-yl]diazenyl]phenoxy]ethoxy]phenyl]diazenyl]-3-oxo-N-(2-oxo-1,3-dihydrobenzimidazol-5-yl)butanamide
InChI: InChI=1S/C36H32N10O8/c1-19(47)31(33(49)37-21-11-13-23-27(17-21)41-35(51)39-23)45-43-25-7-3-5-9-29(25)53-15-16-54-30-10-6-4-8-26(30)44-46-32(20(2)48)34(50)38-22-12-14-24-28(18-22)42-36(52)40-24/h3-14,17-18,31-32H,15-16H2,1-2H3,(H,37,49)(H,38,50)(H2,39,41,51)(H2,40,42,52)
InChIKey: PUNNQKXGKNOLTB-UHFFFAOYSA-N
Canonical SMILES: CC(=O)C(C(=O)NC1=CC2=C(C=C1)NC(=O)N2)N=NC3=CC=CC=C3OCCOC4=CC=CC=C4N=NC(C(=O)C)C(=O)NC5=CC6=C(C=C5)NC(=O)N6
| | |
| --- | --- |
| Property Name | Property Value |
| Molecular Weight | 732.7 |
| XLogP3-AA | 4.1 |
| Hydrogen Bond Donor Count | 6 |
| Hydrogen Bond Acceptor Count | 12 |
| Rotatable Bond Count | 15 |
| Exact Mass | 732.240458 |
| Monoisotopic Mass | 732.240458 |
| Topological Polar Surface Area | 243 Ų |
| Heavy Atom Count | 54 |
| Formal Charge | 0 |
| Complexity | 1360 |
| Isotope Atom Count | 0 |
| Defined Atom Stereocenter Count | 0 |
| Undefined Atom Stereocenter Count | 2 |
| Defined Bond Stereocenter Count | 0 |
| Undefined Bond Stereocenter Count | 0 |
| Covalently-Bonded Unit Count | 1 |
| Compound Is Canonicalized | Yes |
[From:PubChem]