Pigment Yellow 168
| | |
| --- | --- |
| Product Name | PIGMENT YELLOW 168 |
| Synonyms: | C.I.Pigment Yellow 168; C.I.PY168; PY168; P.Y.168 |
| C.I. | 13960 |
| CAS NO. | 71832-85-4 |
| EINECS | 276-057-2 |
| Molecular Weight | 440.82 |
| Molecular Formula | C16H13ClN4O7S |
| Color | Yellow powder |

Molecular structure formula: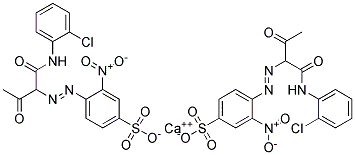 Main application: Plastic
We have various pigment grades and properties to meet different customers' needs, please specify your application and requirements so that we can recommend accordingly.  E-mail: sy@sypigment.com
Product Description of Pigment Yellow 168:
Pigment Yellow 168  is a calcium salt lake with similar structure to CI Pigment Yellow 61 and Pigment Yellow 62, giving a slightly greenish yellow hue, between CI Pigment Yellow 1 and Pigment Yellow 3; good for aliphatic and aromatic hydrocarbons Solvent resistance and migration resistance, mainly used for the coloring of paints and plastics. It has good migration resistance in plastic PVC. The color strength is slightly lower. The light fastness is level 6. It has dimensional deformation in HDPE. It is mainly recommended for Coloring of LDPE.