Pigment Blue 14
| | |
| --- | --- |
| Product Name | PIGMENT BLUE 14 |
| Synonyms | C.I.Pigment Blue 14; C.I.PB14; PB14; P.B.14 |
| CI. | 42600:1 |
| CAS NO. | 325-88-8 |
| Molecular Weight | 457.69 |
| Molecular Formula | C31H43N3 |
| Color | Blue powder |

Molecular structure formula: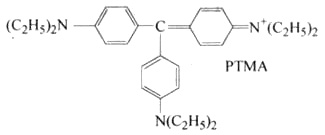 Main application: Water based ink, Offset ink, Solvent based ink, Plastic, Paint, Textile printing
We have various pigment grades and properties to meet different customers' needs, please specify your application and requirements so that we can recommend accordingly.  E-mail: sy@sypigment.com
Product Description of Pigment Blue 14:
Pigment Blue 14 is a phosphotungstomolybdic acid lake of a substituted triaminotriphenylmethane basic dye, giving a stronger red and blue color. This product, like C.I. Pigment Blue 2 and C.I. Pigment Blue 9, has little industrial value and the market is gradually shrinking. It is mainly used for coloring special and cultural and educational supplies and printing inks.