Pigment Blue 60
| | |
| --- | --- |
| Product Name | PIGMENT BLUE 60 |
| Synonyms | C.I.Pigment Blue 60; C.I.PB60; PB60; P.B.60 |
| C.I. | 69800 |
| CAS NO. | 81-77-6 |
| EINECS | 201-375-5 |
| Molecular Weight | 442.42 |
| Molecular Formula | C28H14N2O4 |
| Density | 1.487g/cm3 |
| Color | Blue powder |

Molecular structure formula: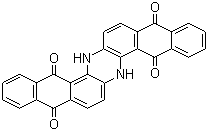 Fastness Properties of Pigment Blue 60:
| | |
| --- | --- |
| Light Fastness | 7 |
| Heat Resistance(℃) | 200 |
| Water Resistance | 4 |
| Oil Resistance | 4 |
| Acid Resistance | 5 |
| Alkali Resistance | 5 |
| Alcohol Resistance | 5 |
Main application: Water based ink, Offset ink, Solvent based ink, Plastic, Paint, Textile printing
We have various pigment grades and properties to meet different customers' needs, please specify your application and requirements so that we can recommend accordingly.  E-mail: sy@sypigment.com
Product Description of Pigment Blue 60:
Close to ε-CuPc reddish, excellent weather fastness to light, high transparency and fastness to solvents. The specific surface area of Cromophtal Blue A3R is 40m2/g. Used in metal decorative paints such as automotive coatings, it is even more light-resistant than CuPc; it still has excellent durability in dilute colors, but has lower tinting strength than α-type CuPc; it can also be used for plastic coloring, and has a thermal stability in polyolefins. 300°C/5min (1/3SD HDPE sample 300, the color difference ΔE at 200°C is only 1.5); soft PVC has excellent migration resistance, light fastness is 8 (1/3SD); also used High-end coinage printing ink. Mainly used for car original topcoat.