Pigment Yellow 65
| | |
| --- | --- |
| Product Name | PIGMENT YELLOW 65 |
| Synonyms | C.I.Pigment Yellow 65; C.I.PY65; PY65; P.Y.65 |
| C.I. | 11740 |
| CAS NO. | 6528-34-3 |
| EINECS | 229-419-9 |
| Molecular Weight | 386.36 |
| Molecular Formula | C18H18N4O6 |
| Density | 1.33g/cm3 |
| Color | Yellow powder |

Molecular structure formula: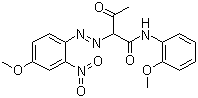 Fastness Properties of Pigment Yellow 65:
| | |
| --- | --- |
| Light Fastness | 6 |
| Heat Resistance(℃) | 180 |
| Water Resistance | 5 |
| Oil Resistance | 5 |
| Acid Resistance | 5 |
| Alkali Resistance | 5 |
| Alcohol Resistance | 4 |
Main application: Paint
We have various pigment grades and properties to meet different customers' needs, please specify your application and requirements so that we can recommend accordingly. E-mail: sy@sypigment.com
Product Description of Pigment Yellow 65:
Pigment Yellow 65 is used for the coloring of inks, pigment printing pastes, latex, painting pigments, cultural and educational supplies, etc.
The pigment is less produced and used in Europe and Asia, but more in demand in the US market. Low surface area (6-20m2/g) coarse particle products are available, slightly worse than CI Pigment Yellow 83 in red light, high hiding power, better solvent resistance, light fastness, used for air drying paint, latex paint, Pigment printing paste; because of its low color strength, it is less used for ink coloring.
Used in the latex coating of oily medium, it can also be used for the coloring of paint, rubber and cultural and educational articles.